Stepping into December will be the season for a series of Christmas parties! Are you ready for the exchange of Christmas gifts? It must be a big test for everyone to think about what gifts to buy every year! I am afraid that the gifts I bought are not practical and will be treated as garbage by others. In order to avoid such a tragic situation, the editor also collects Christmas gift recommendations for you. Let's see if there are any inspirations that you can buy and give to your friends. La!
Recommended Christmas Gift Exchange Guide
1) Cat's Claw Hand Warmer Portable Hand Warmer $98
In winter, it's best to give warm hats. This
cat's paw shape is not only cute, but the appearance design without edges and corners is soft to the touch. It not only has 2 gears to adjust the hand warming function, but also can be used as a mobile power charging stand!
2) Philips Bird Night Light with Wireless Charger $268
If you want to give some economical and affordable gifts,
Philips bird night light with wireless charger is the best for you! Not only can it be used as a
wireless charger, but also has a small night light that can be easily detached and carried. What a cute and practical gift!
3) Oakywood geometric solid wood wireless charger $623
If you want to give a unique gift,
the Oakywood wireless charger is a product with a unique design, inspired by geometric shapes and lines. And it is handmade in Poland, so each one has its unique texture.
4)

DIY self-mixing fruit wine holder - made in Taiwan about $417
Photo credit:
Miss Mori's Tea Shop
Well, many people in Hong Kong like to drink and relax. The gift box includes 4 flavors
of Ms. Mori's tea leaves, 6 sticks of flowers and plants with different ingredients, and different combinations can make your own delicious wine taste. It's
good as a gift for your own use. Decent, it must be an enviable gift!
Note: This product does not contain alcohol (vodka/gin/rum is recommended as the choice of base wine)
Purchase link: click here
5)
The Christmas snack box
comes from 11 countries/12 snacks, about

$

397.5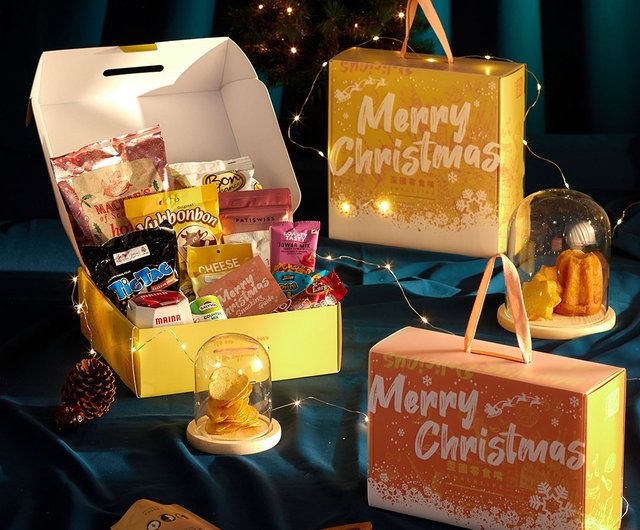 Image Credit: Pinkoi
This year's most anticipated Christmas gift - Christmas Snack Box!
One box contains world snacks from more than 11 countries, including European Christmas limited cakes and potato chips, so you can easily experience authentic food right out of the box! Whether it is an adult or a child, it is suitable!
Purchase link: click here
Spoof Christmas gift promotion
I believe that many friends will always receive one or two spoof gifts every year. This year, it is better to change roles and challenge the bottom line of friendship together!
1) Japan Beverly Solid Color Hell Puzzle (108 pieces) $128
Image credit: Crab Warehouse
This is definitely a shocking gift! Usually, the pressure of rework is already great enough. Imagine that once a friend receives it, he opens it and sees a puzzle that is all pure white. It is like a bolt from the blue! There are also 3 versions to choose from, including the entry-level version of 108 yuan, the master level of 1,000 yuan, and the devil-level version of the DX version (both sides have colors) of 1,000 yuan.

Purchase link: click here


2)
Buddhist chanting machine $55
Photo Credit: TAI WO COMPANY

Hong Kong people live in a fast-paced and stressful life, so why not! After receiving the Buddhist chanting machine, I believe it can purify the soul. There are 36 songs in this machine that can be relooped non-stop, which can definitely make friends relax and live a Buddhist life!
Purchase link: click here
3)

Customized doll hanger for about $168
Image Credit: Pinkoi
Do you want your friends to miss you every day? The custom-made doll hanger is the most worthy of the name! In addition to designing your own avatar, you can also choose the body shape of the hanger and the shirt. If you want to turn yourself into a big guy, you can have a stylish suit look! Every time I pick up a shirt, I see you like this. How difficult is it to remember which one to give away!
Purchase link: click here
4) Head socks $126
Image Credit: Pinkoi
"Socks" are light and affectionate, so this Christmas, give a pair of Christmas socks to your friends! This avatar socks can customize the avatar you want, from 1 to 6 looks. It can be printed and posted as a group of friends, and the friends who receive it will step on it every day!
Purchase link: click here
5)
A bag of Chicken McNuggets Sauce
I don't know if this gift is really funny, but if you eat McDonald's in the future, you won't be able to wash the beer sauce, so it's really worth it for this gift. Haven't figured out what to use after returning home? It may be good for whole sweet and sour fried pork ribs!
No matter what you receive, it's all a heart
! The editor wishes you all a Merry Christmas!